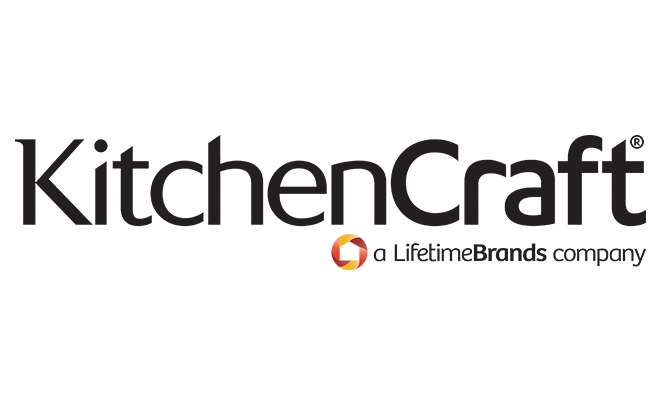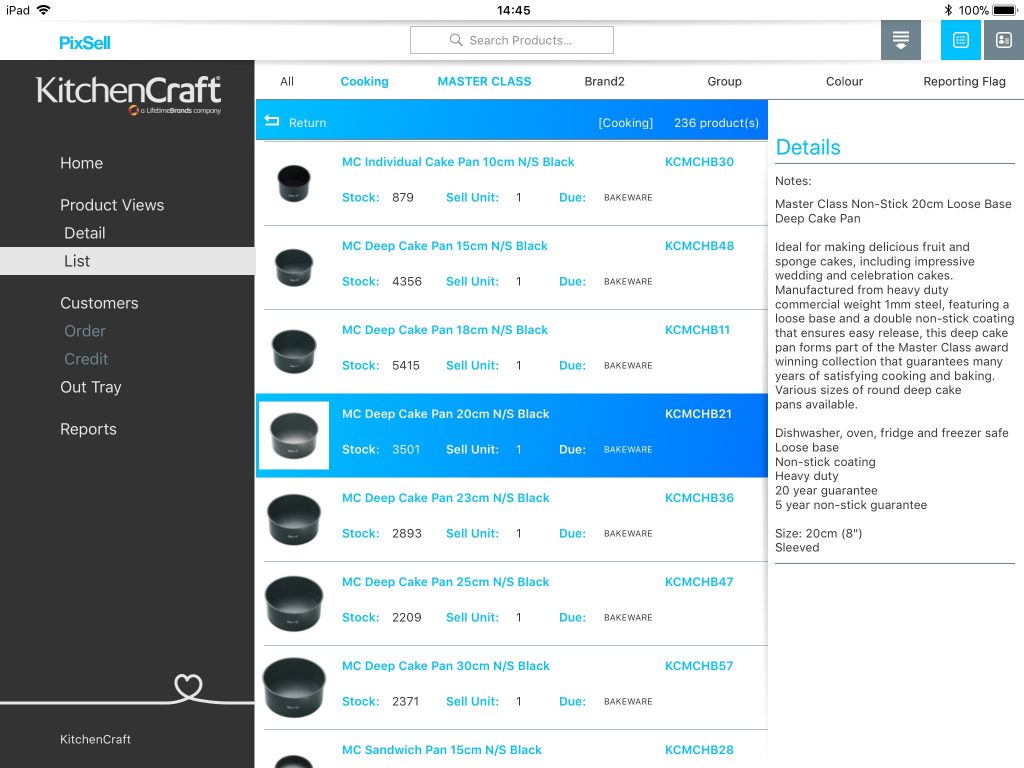 PixSell is "much more than just an ordering tool" for housewares giants KitchenCraft:
Since the initial launch of PixSell, housewares distributors KitchenCraft have deployed iPad ordering for use across Europe and the Middle East. Furthermore, PixSell is also used by both the National Accounts and Buying teams.
Used by a total of 75 reps and agents covering the UK, Europe and the Middle East, the app has been developed to support multiple languages and currencies. Each KitchenCraft salesperson has their own territory of accounts on the iPad which incorporate all of the customers' regional requirements. With these configurations in place, reps and agents can take digital orders on the spot, then send them back to head office for fulfilment. Since launching PixSell, reps can service each customer in a more timely fashion, enabling the reps to see more customers in a day.
Elsewhere in the business, the National Accounts team use the PDFs and flyers from PixSell's presentation screen to manage their accounts. PixSell is also used in Asia by the Buying team, giving them access to product and pricing information to help them develop their upcoming products and ranges.
"The implementation of PixSell has made our sales reps more productive and much more than just order takers. The information available to them on the iPad enables them to sell new lines and ranges, as opposed to just selling a standard customer order."
Challenges:
As a global operation, KitchenCraft were struggling to bring together data on orders, rep activity and overall sales performance. This generated a lot of annotation and admin.
Prior to PixSell, KitchenCraft were no strangers to technology for field sales. Their reps previously used a rudimentary handheld system to key in orders. Whilst this placed them ahead of other teams using pen and paper, lack of integration created a lot of work for head office — manually rekeying each order, causing dispatch delays.
Whilst the field sales team had digitalised their process and sales aids, the National Account and Buying teams were still relying on printed catalogues and pricing lists. This seemed disjointed and put the other teams at a professional disadvantage.
Solution:
PixSell's DataBridge reporting system has consolidated all of this information, enabling KitchenCraft to analyse data across differing time periods, individual reps, order values and volume.
With the advent of PixSell, which links with KitchenCraft's host system at head office, orders are imported automatically massively reducing pressure on Customer Services at head office. Out in the field, reps have access to PDFs, videos, lifestyle images and guidance on effective seasonal selling, enabling them to easily close sales.
PixSell has been rolled out to the KitchenCraft National Accounts and Buying teams to be used as a pricing reference and digital catalogue with new ranges. Using the same tool across the business promotes continuity and brand strength.
"As a resource, PixSell looks very professional and is a great asset for both our National Account and Buying teams, where we use the app as a pricing and presentation reference. Our strong working relationship with Aspin has allowed us to continually grow our number of users — PixSell is now deployed throughout Europe where we have several separate price lists and product listings. The ability to tailor PixSell to our business needs has enabled us to regularly expand it."
Tom Chattaway, Digital Manager, KitchenCraft Ltd