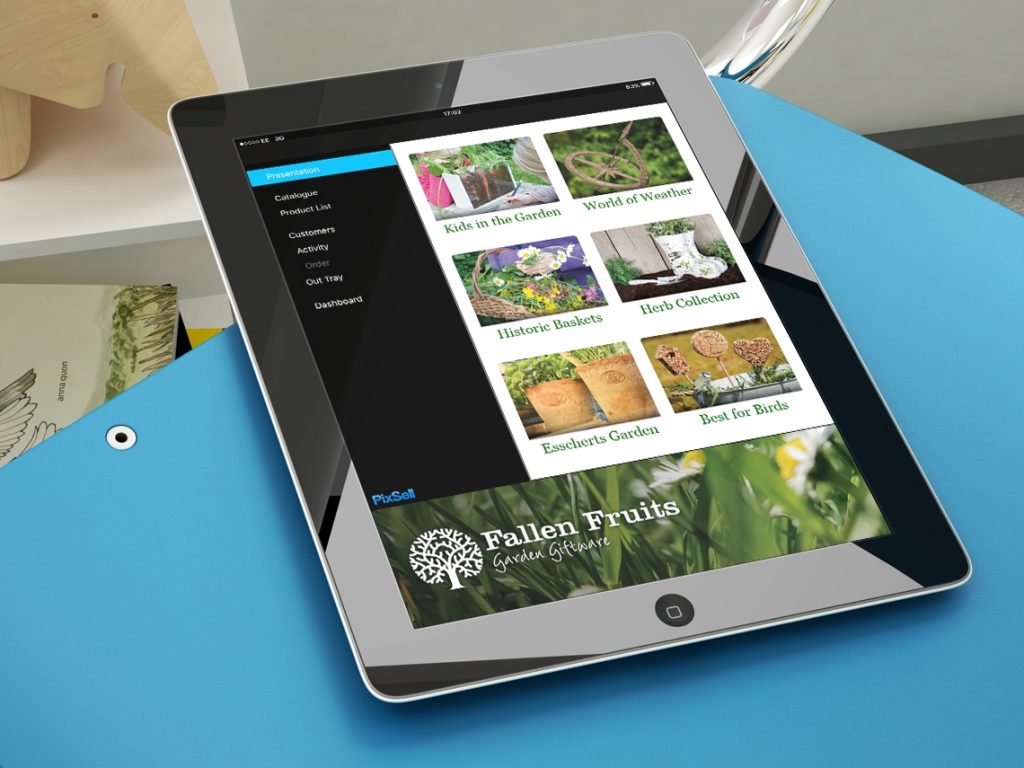 Fallen Fruits celebrate eight years of iPad ordering with PixSell
The sales team at garden giftware suppliers Fallen Fruits have been equipped with PixSell iPad ordering since 2012. Fast forward eight years, and the app is a mainstay for the business at trade shows, and out on the road.
Before adopting PixSell, rep orders would be taken out in the field via pen and paper to then be phoned back to head office. They would then be manually inputted by the admin team as a picking note. "With PixSell, a picking note is now sent automatically to the warehouse," General Manager Carole D'Arcy told us. "This cuts out several stages and really speeds up the process. At Fallen Fruits we have a bespoke sales order processing system which integrates with our back office ERP system for accounts. PixSell ensures that the order is received straight away and we can quickly put together a customer invoice to then send out."
"At trade shows, we create daily reports which helps us stay on top of our stock levels and we review sales for the previous day. All of the sales team can see their individual orders and it creates a healthy competition between the reps, encouraging them to sell the most!"
Securing regular orders with PixSell
At head office, having all the sales team information to hand on a mobile app means that Fallen Fruits are able to monitor their sales performance, and also manage their current and potential customers. "With PixSell's rep activity reporting we can effectively see what all of our reps are up to," Carole said. "We have a list of all our current and prospective customers and we can see how each order is progressing and look at when we next need to contact someone. This is something we utilise regularly."
From paper to tech
Moving away from the more traditional way of taking orders via pen and paper, the sales team at Fallen Fruits are pleased with the impact PixSell has had. "For some of our reps, adopting PixSell was a learning curve and they are now confident, and really like the system," Carole said. "Using the iPad gives a great image of the company and makes us appear very professional. We update our new ranges twice a year and this is shown on PixSell by using the presentation screen. This makes it very easy to showcase our products to a customer, and it looks very high-tech."
A major positive for Fallen Fruits is the service and training they have received from Aspin throughout the implementation of PixSell. "The Aspin Support staff are second to none," Carole said. "They are always on hand to help and their patience is incredible. In particular, we have found the training for PixSell essential to really ensure that our reps are on board with using the app successfully.".
"We are able to closely monitor all prospect and customer activity so our sales team are always aware of their schedule."